Q1.
What is the essence of Kai-Faak?
Essence under code 491 are :
Contract of Sale.
Ownership of the property sold passed to the buyers.
Contract with subject to redeem that property by seller.
Q2.
Process of Kai-Faak?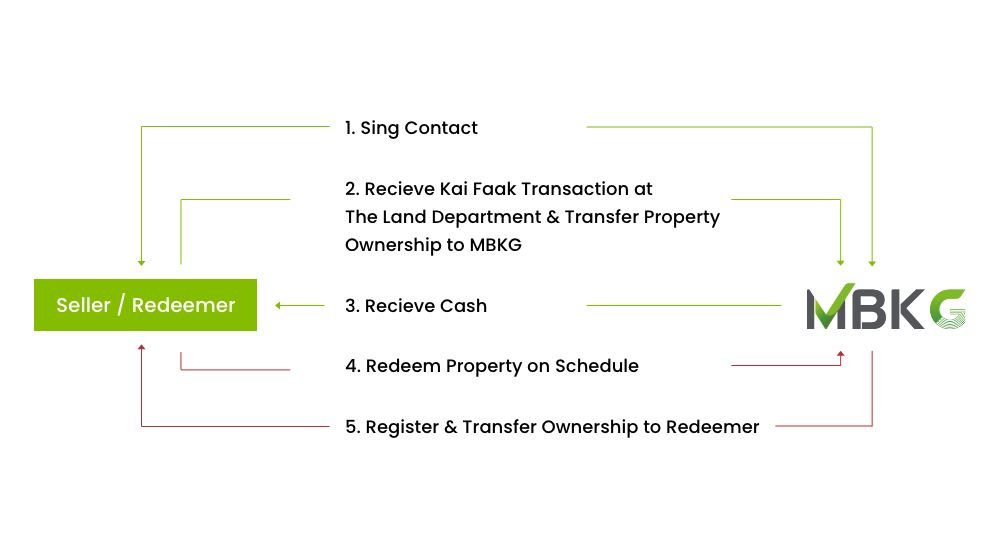 Q3.
Who can enjoy the benefits from MBKG's Kai-Faak?
Property Owner or who shall request to own the property such as vacant land or land with building under MBKG concerned criteria.
Whoever may require working capital- business expansion, purchasing land, refinance etc.
Whoever may require quick cash without bulk of document preparation.
Whoever may not match with Bank's required criteria or fail to be served from Bank's service.
Capitalist with limited source of fund.
Q4.
Why do Kai-Faak with MBKG ?
Considerable as property base.
Purpose of loan is not required.
No ceiling of approved credit limit .
Reasonable benefit rate (Interest Charge) and fee.
Fair and transparent contract.
Less required documents with simple approval process.
Quick cash within 7 working days.